Download these 8 Free Sample Nail Services Salon Price List Templates to prepare your own Price List easily.
Who don't like to have nice, trimmed, and clean nails with coats of nail paint done in the salon, at least I am ready to spend my money on it. The healthy nails reflect the personality of a person. When ladies go to the salon the first thing they like to have is the price list where they can select the package of their choice.
There were days when only nail polish application was famous related to nails, but in this century where glamour world is talking high, manicure, pedicure, nail shining, cuticle softening, nail sharpening and many other services are available so customer likes to see them listed in your price list. When you don't have a price list the customer has to rush and ask the workers about the prices.
Using Nail Services Salon Price List Templates
The organized price list is liked by everyone. When you start running a spa or a salon the beginning should be the making of price list because at first you are not yourself sure that what prices you are going to charge. So instead of creating panic in front of the customer it's better to create a price list. One thing that I have noticed is that sometimes people add the names of the services that are not available, but they don't know it lasts a bad impression on the customer.
When you provide the customer your price list it lasts a good statement on them. Having a price list ready to show is a wise act and normally it is noticed that only professionals do have price lists.
Nail Services Salon Price List Format Guidelines
The first step of making a price list is the selection of the template. It can be handmade which looks creative, but if you run out of time then simply download the one available on the internet. As nail services include so many options so they should be categorized and arranged in a unique and attractive pattern.
The second important thing is to mention some important details such as the name of your salon, your complete proper address for those who are looking it on the internet and your current contact number. You can upload your price list on the internet as well.
The next step in the making of a price list is the addition of the services that you are providing, you can mention the name of the worker and the hours she is going to spent. The customers are impressed, when your price list, show them the benefits of that service they are interested in.
Now it's simply your choice to make the graphics decent or vibrant, but make sure that the font shouldn't be fancy as it can be difficult for people to read. Also, your pamphlet shouldn't be lengthy for the one to read because the happy your customer is, more happily your business will run.
Free Nail Services Salon Price List Templates
If you are offering any special offers than always mention them separately. Price list creation can be time gaining but as you put your time you will get fruit full benefits.
Here is preview of This First Sample Nail Services Salon Price List Template in MS Word format.
Source: printabletemplate.org
Download link for this Sample Nail Services Salon Price List Template.

Here is preview of another Sample Nail Services Salon Price List Template created using MS Word,
Source: officetemplates.org
Here is download link for this Sample Nail Services Salon Price List Template,

Here is preview of another Sample Nail Services Salon Price List Template created using MS Excel,
Source: worddox.org
Here is download link for this Sample Nail Services Salon Price List Template,

Here is preview of another Sample Nail Services Salon Price List Template created using MS Excel,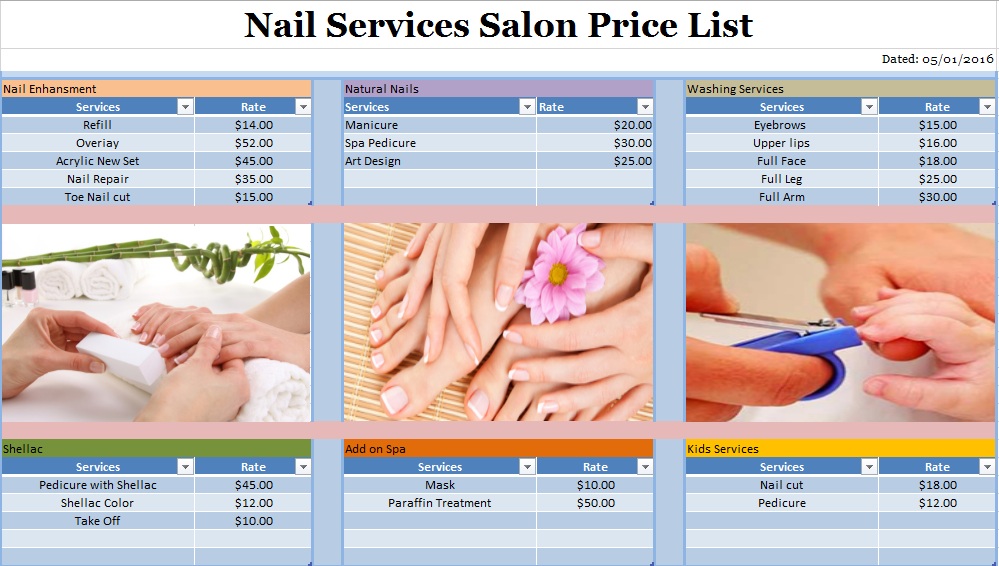 Source: bluelayouts.org
Here is download link for this Sample Nail Services Salon Price List Template,

Here is preview of another Sample Nail Services Salon Price List Template in PDF Format,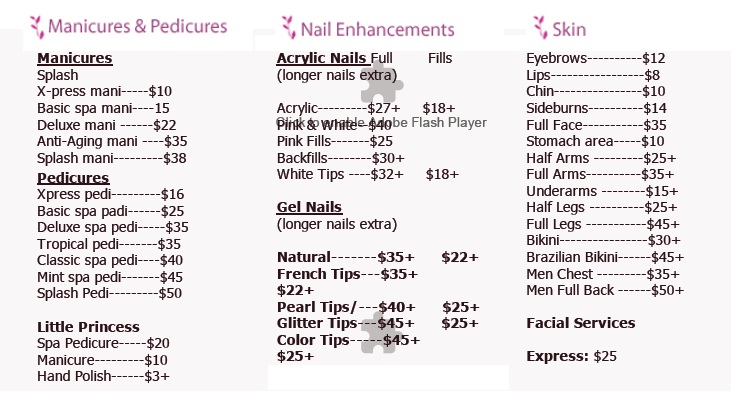 Source: splashnailsandspa.com
Here is download link for this Sample Nail Services Salon Price List Template,

Here is preview of another Sample Nail Services Salon Price List Template in PDF Format,
Source: parisnailsandbeauty.com
Here is download link for this Sample Nail Services Salon Price List Template,

Here is preview of another Sample Nail Services Salon Price List Template in PDF Format,
Source: divanails.co.nz
Here is download link for this Sample Nail Services Salon Price List Template,

Here is preview of another Sample Nail Services Salon Price List Template in PDF Format,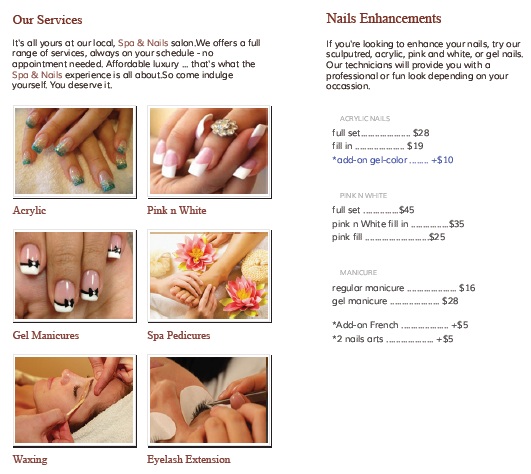 Source: westfieldspanails.com
Here is download link for this Sample Nail Services Salon Price List Template,