Escrow is a process in which a  person or a party puts his property, deposit or any other kind of possession in the hands of a third party in order to make sure that the money doesn't change the ownership until specific conditions are fulfilled. For example, a person wants to buy a house and he puts deposit with an escrow officer in order to make sure that before he and the seller sign the agreement, the property doesn't change hands until particular conditions are met i.e. signing of the agreement.
Introduction to an Escrow Agreement:
In real estate, sellers and buyers prefer using escrow accounts in order to protect their rights and obligations. When a buyer puts an offer on a real estate property and the seller accepts it, they make a deal to transfer the ownership of the property i.e. house. In order to make sure that the buyer will buy the house after a certain period of time i.e. period of option, the seller requires the buyer to put a deposit as security or assurance of not wasting time and resources of the seller. In this situation, when the buyer puts deposit in the hands of a third neutral party instead of the actual seller and signs the contract with that third party, it is known as the escrow agreement.
Brief Description of Escrow Agreement:
There are many important factors of an escrow agreement but the most important thing about this particular agreement is that it includes specific terms, conditions and guidelines that will lead to the exchange of the ownership of the money or insurance deposit put in the hands of the escrow officer. In the real estate property purchase example, a person puts a specific deposit in the hands of an escrow officer and as the officer signs the escrow agreement, he agrees that until the seller and buyer sign the purchase agreement, he won't transfer the deposit to the seller.
Another important aspect of this agreement is that the buyer doesn't need to worry about his deposit and the fact that the seller of the property might take his deposit and still sells the property to someone else. As the buyer gives the deposit to a neutral third party i.e. escrow officer, there is good guaranty that even if the seller and buyer don't seal the deal, the buyer will receive his deposit back.
Key Elements to include in the Escrow Agreement:
Name of the seller of the property with complete address
Name of the buyer of the property with complete address
Name of the escrow officer and his company name with complete address
Date on which the escrow agreement is being signed
Details of the property that the buyer will purchase from the seller
Details of the deposit that the buyer has put in the hands of the escrow officer
Specific terms, conditions and guidelines for the escrow officer to keep, return or transfer the money to the seller or buyer
Other terms and conditions of the agreement
Signature of parties involved in the process
Here is preview of This First Sample Escrow Agreement Template created using MS Word,
Source: booksite.elsevier.com
Here is download link for this Sample Escrow Agreement Template,

Here is preview of another Sample Escrow Agreement Template created using MS Word,
Source: dfs.ny.gov
Here is download link for this Sample Escrow Agreement Template,

Here is preview of another Sample Escrow Agreement Template created using MS Word,
Source: knightbarry.com
Here is download link for this Sample Escrow Agreement Template,

Here is preview of another Sample Escrow Agreement Template created using MS Word,
Source: dpti.sa.gov.au
Here is download link for this Sample Escrow Agreement Template,

Here is preview of another Sample Escrow Agreement Template in PDF Format,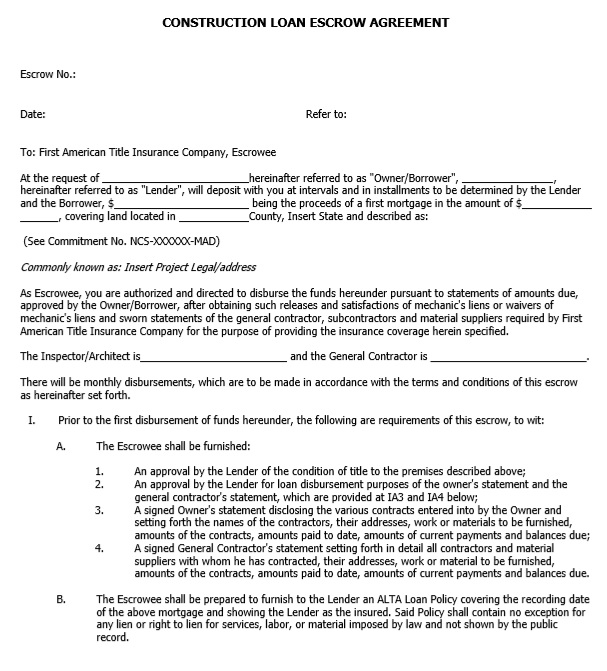 Source: axley.com
Here is download link for this Sample Escrow Agreement Template,

Here is preview of another Sample Escrow Agreement Template in PDF Format,
Source: ourprofessionalteam.com
Here is download link for this Sample Escrow Agreement Template,

Here is preview of another Sample Escrow Agreement Template in PDF Format,
Source: invtitle.com
Here is download link for this Sample Escrow Agreement Template,

Here is preview of another Sample Escrow Agreement Template in PDF Format,
Source: ourprofessionalteam.com
Here is download link for this Sample Escrow Agreement Template,

Here is preview of another Sample Escrow Agreement Template in PDF Format,
Source: static.ark.org
Here is download link for this Sample Escrow Agreement Template,

Here is preview of another Sample Escrow Agreement Template in PDF Format,
Source: insurance.delaware.gov
Here is download link for this Sample Escrow Agreement Template,