There are various events organized by the community or by a society to involve people and bring together the members for a joyous event. One of such events is a potluck where each and every member of the community who will be taking part in the potluck will be bringing food or a dish to the event. Potlucks are usually held at the local community center or at a place which is extremely big and wide. This is to encompass the large number of people that will be coming in. organizers of the events have made up a list which mentions who will come and who will bring what.
But at the day of the event they want to know who came in to the potluck and at what time, this can either be due to security reasons or because they want to know why exactly a person didn't come and then help him or her if he or she was in trouble. To know who made it, a simple yet effective solution in the form of a sign in sheet has been used. A sign in sheet is a sheet where people sign in to record their presence and to let the organizers know that they are so and so and they have just entered the premises for the potluck.
A sign in sheet isvery simple and there is usually nothing much to do about it. Organizers just take a simple paper, keep it out in the front with just a header mentioning that it is a sign in sheet for the potluck.  When organizing, it is advised that it is best that there should be some detail mentioned on top or attached to it. For a potluck some kind of welcome or a statement that welcomes the guests to the event can be mentioned to welcome the guests with a warm gesture. It is vital for the organizers to mention detail since it will create a lasting impression on the visitors and make the guests know that they are welcome and the whole potluck will be joyous and a happy occasion.
A sign in sheet should be very organized. The header should be in bold, such that it can be seen clearly by all. If the organizers want to mention any kind of detail regarding the place or for anything, it can either be mentioned in a few sentences just below the header or can be attached along or mentioned at the back. It is better to consider the first option. Make sure that the font that you use is readable and gives a good impression. Then columns should be made which mention the name of the visitor, the time in and time out, and the house number, since it is common that there be namesakes attending the potluck. In the end a signature column should also be mentioned. The size of the sign in sheet depends upon the number of people that are being expected.
Here is preview of This First Sample Potluck Sign in Sheet Template created using MS Word,
Source: smartsheet.com
Here is download link for this Sample Potluck Sign in Sheet Template for Annual Sales,

Here is preview of another Sample Potluck Sign in Sheet Template created using MS Word,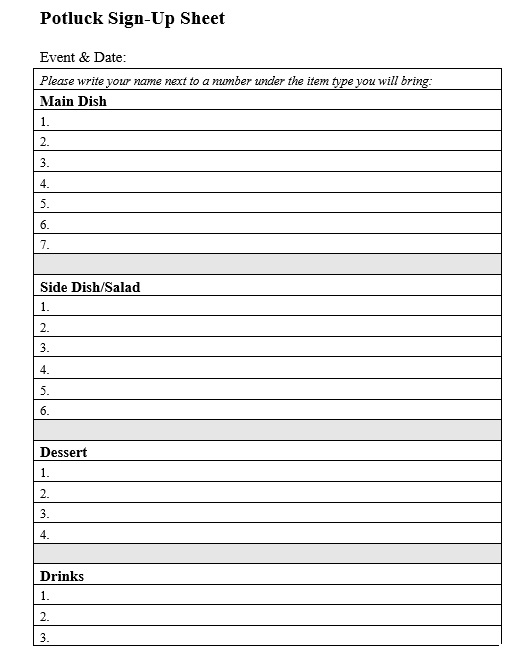 Source: businessformtemplate.com
Here is download link for this Sample Potluck Sign in Sheet Template for Annual Sales,

Here is preview of another Sample Potluck Sign in Sheet Template created using MS Excel,
Source: docs.google.com
Here is download link for this Sample Potluck Sign in Sheet Template for Annual Sales,

Here is preview of another Sample Potluck Sign in Sheet Template created using MS Excel,
Source: vertex42.com
Here is download link for this Sample Potluck Sign in Sheet Template for Annual Sales,

Here is preview of another Sample Potluck Sign in Sheet Template created using MS Excel,
Source: exceltemplates.org
Here is download link for this Sample Potluck Sign in Sheet Template for Annual Sales,

Here is preview of another Sample Potluck Sign in Sheet Template created using MS Word,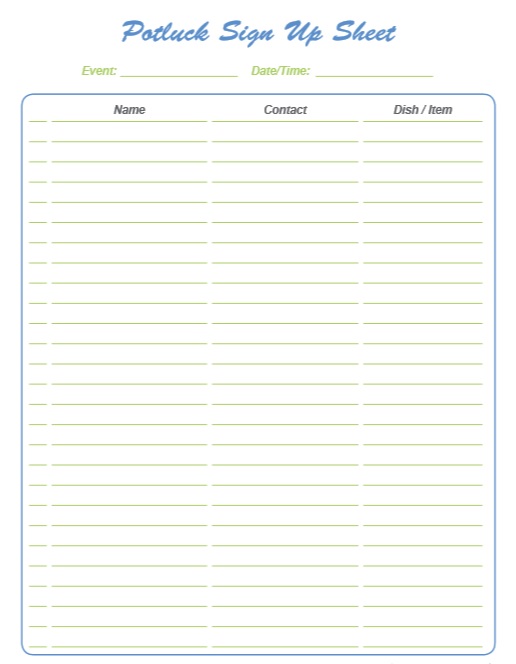 Source: findandremind.com
Here is download link for this Sample Potluck Sign in Sheet Template for Annual Sales,

Here is preview of another Sample Potluck Sign in Sheet Template in PDF Format,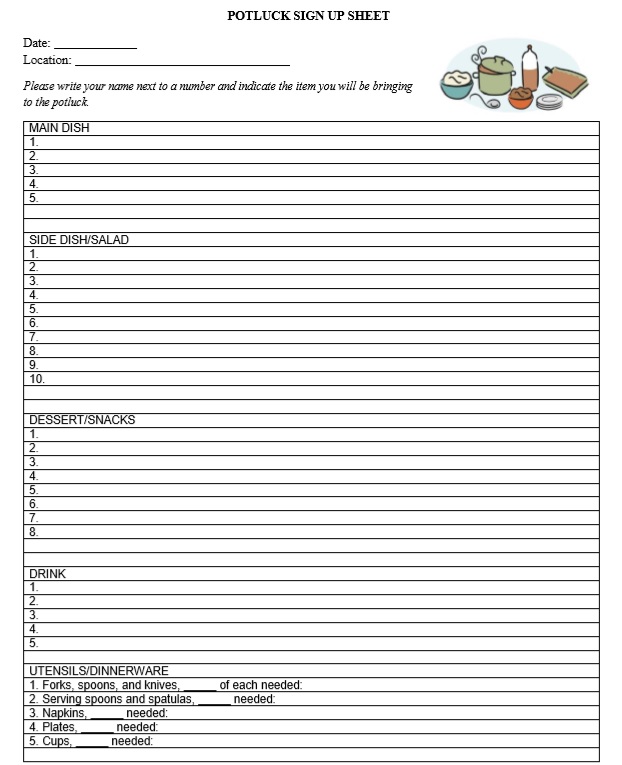 Source: tidyform.com
Here is download link for this Sample Potluck Sign in Sheet Template for Annual Sales,