Download these 10+ Free Paper Crown Templates in MS Word Format to help you prepare and print your very own Paper Crown quickly and easily.
Being a prince or princess is perhaps the most common fantasy of kids. And it's not that the kids of this century want to be princes or princesses but it's kind of a very common dream for kids for a long time. If you can remember the times when your grandparents used to tell you stories about kings and queens and princesses of the past in your childhood, how did you feel while learning about how these noble people spent their lives? Because of this, the most common party decoration item is the paper crown because whether you are a prince or princess, you need a crown. It's not possible to get a real metal or gold crown for your kids but you can still make paper crowns and decorate them with paint, glitter, stones, and pearls.
A common way to find these crowns is to go to your local book store or decoration shop and there you will find different types of these paper crowns but keep in mind that this might not be interesting for your kids at all. A more interesting approach is to ask your kids to design their crowns by using their imagination and creativity. In this scenario, you should at least help your kids a little by providing them with readymade crown designs or templates. These ready-to-use templates are available on the internet and most of these designs are free of cost. Although there are some designs that will cost a little money that's nothing compared to what you spend on buying these paper crowns from a local party decoration shop.
Free Printable Paper Crown Templates:
Here are several free printable Paper Crown Templates to suit your needs. Please feel free to download all of the one most suitable for your requirements.
Please download this Paper Crown Template 10 from the link below,

You can download this Paper Crown Template 09 by clicking the download button below,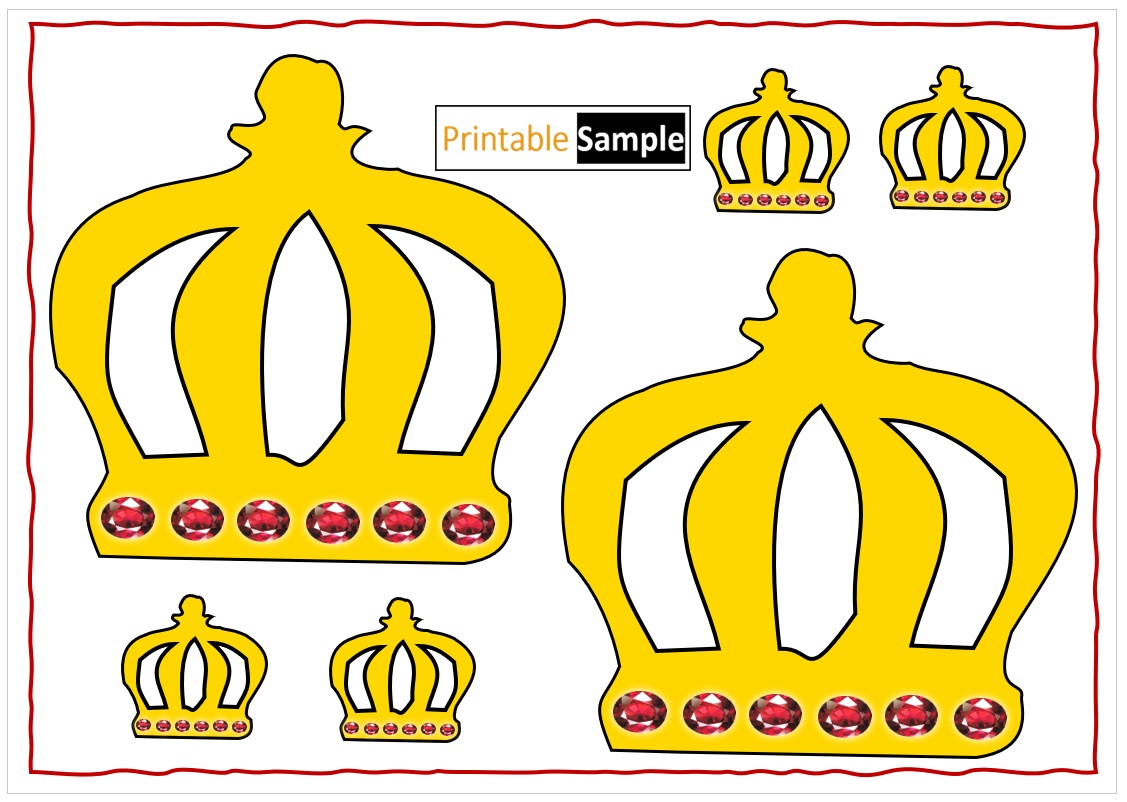 Here is download link for this Paper Crown Template 08 in MS Word format,

Please click on the download button below to start downloading this Paper Crown Template 07 in MS Word format inside a ZIP file.

If you like this Paper Crown Template 06, then please download it from the link below,

Please download this Paper Crown Template 05 from the following link,

Download link for this Paper Crown Template 04 is here,

Here is download link for this Paper Crown Template 03 in MS Word Format,

Download link for this Paper Crown Template 02 is below,

Here is download link for this Paper Crown Template 01,

Benefits of using Readymade Paper Crown Templates:
It goes without saying that when you are using readymade paper crown templates, these are free of cost. Although you need to have a printer and paper and some other decoration material in hand that's not expensive at all especially when you compare the cost of printing your paper crown with store-bought crowns. By using the free templates of paper crowns from the internet, you can save a lot of money which can be spent on other items i.e. balloons, flowers, or food items. Another important benefit of using ready-to-use paper crown templates is that you can find hundreds or even more design options on the internet these days.
This is the beauty of the internet there is just no limit to the options. When you go to your local store, there might not be more than 5 or 10 types of paper crowns but on the internet, you can easily find hundreds and hundreds of designs. While working to print your paper crowns, keep in mind that either you find a black and white or colored design of these crowns on the internet, if there isn't a colored printer available at your home, you need to arrange for the colors and other necessary items to decorate the crowns. On the other hand, if you have a colored printer available, it's going to save a lot of time that you could be spending on coloring the crowns.
Once you find a design on the internet that you like, it's time to download it on your computer and make a few adjustments i.e. type of paper, and center alignment before you can print it. Although an ideal situation would be where you have a colored printer that's not possible all the time but there is no need to worry. If you print a black and white crown design on the paper, you can still ask your kids to decorate these by coloring, adding stones and glitter, or anything that they find fascinating.