A No Objection Certificate, or shortly called NOC, is used for various kind of purposes by students, employees, brokers, tourists, tenants, and other individuals and organizations. Employees require to get a No Objection Certificate if they want to join a new job for double shifting somewhere else, change job, join a part time job, attend workshops or training sessions, apply for refreshing courses, apply for a personal loan, and many other reasons. In this situation, they ask their current employer to grant them NOC which contains information about their previous job experience, behavior, and approval for their particular reason for which they want NOC. So this document is issued on demand of the particular individual or organization for the specific reason mentioned on it. NOC actually holds statement about no objection upon a particular individual or their purpose.
Like employees, broker also require a No Objection Certificate from Economic Development Department for performing various broker activities in an area, i.e. if they want to launch a new business or open a branch of his existing business in a market, they need to get NOC for it. A person who want to shift his vehicle from one state to another needs NOC issued by state government. Some security sensitive areas are restricted for common public visits or tourism, like Jammu & Kashmir. So the tourists have to have an NOC document from the higher authorities to prove that they have not any criminal background or intentions. As mentioned above, an NOC is only for the particular purpose mentioned on it, and it holds no objection only for the activity which it is applied for, otherwise this document is null and void apart from the subject.
A No Objection Certificate has different title, format and wording for each purpose. For instance, an employee needs to visit abroad for a personal or other reason. He needs to inform their management beforehand so that they can arrange a substitute for him in his absence and his nonattendance does not affect their business. He writes an NOC application to the head or director of company with clear description of his cause and duration. If the company has no issue with his tour abroad, they will issue a No Objection Certificate accordingly. A No Objection Certificate wording guide depends entirely on the purpose which it is applied for. NOC format for this purpose can be like the following sample:
Date:

To Whom It May Concern

This certificate is to claim complete no objection if Mr./Ms. _________ employee at ____________ is going on a tour abroad. He has already informed the director beforehand, and this certificate is issued as per the request of employee. On corresponding to the details provided, visit date starts from _____ to ______.

Sincerely

Administration of ________
The above example of No Objection Certificate is specific to the purpose of the particular employee who is going to attend a visit abroad. Secondly, the wording of this NOC entirely fulfills the requirement and expectation of both the parties, employee and employer.
Basic parts of any kind of No Objection Certificate include date, To Whom It May Concern, no objection statement which contains the detail of the particular aim in a comprehensive manner, and designation and signatures of the authority issuing the certificate document.
Here is preview of This First Sample No Objection Certificate Template created using MS Word,










Source: nseindia.com
Here is download link for this Sample No Objection Certificate Template,

Here is preview of another Sample No Objection Certificate Template created using MS Word,
Source: mywordtemplates.org
Here is download link for this Sample No Objection Certificate Template,

Here is preview of another Sample No Objection Certificate Template created using MS Word,
Source: hloom.com
Here is download link for this Sample No Objection Certificate Template,

Here is preview of another Sample No Objection Certificate Template created using MS Word,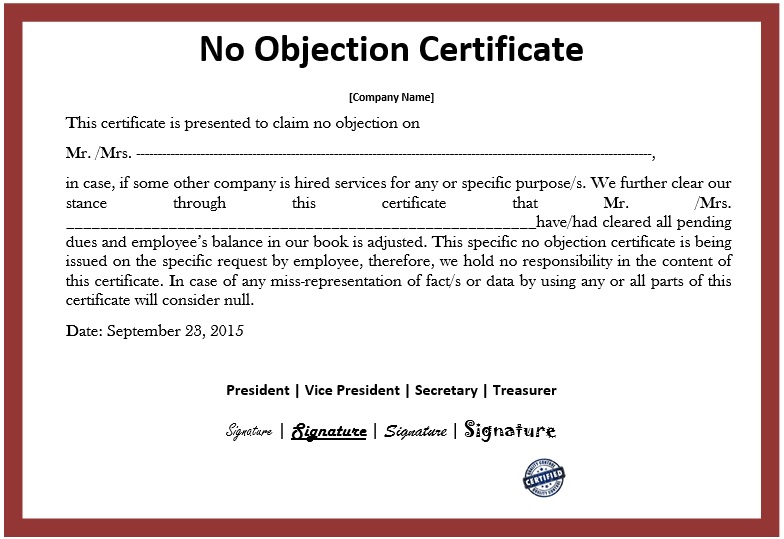 Source: wordexceltemplates.com
Here is download link for this Sample No Objection Certificate Template,

Here is preview of another Sample No Objection Certificate Template created using MS Word,
Source: wordstemplates.org
Here is download link for this Sample No Objection Certificate Template,

Here is preview of another Sample No Objection Certificate Template created using MS Word,
Source: linkintime.co.in
Here is download link for this Sample No Objection Certificate Template,

Here is preview of another Sample No Objection Certificate Template created using MS Word,
Source: narosa.com
Here is download link for this Sample No Objection Certificate Template,

Here is preview of another Sample No Objection Certificate Template in PDF Format,
Source: amity.edu
Here is download link for this Sample No Objection Certificate Template,

Here is preview of another Sample No Objection Certificate Template in PDF Format,
Source: manipal.edu
Here is download link for this Sample No Objection Certificate Template,

Here is preview of another Sample No Objection Certificate Template in PDF Format,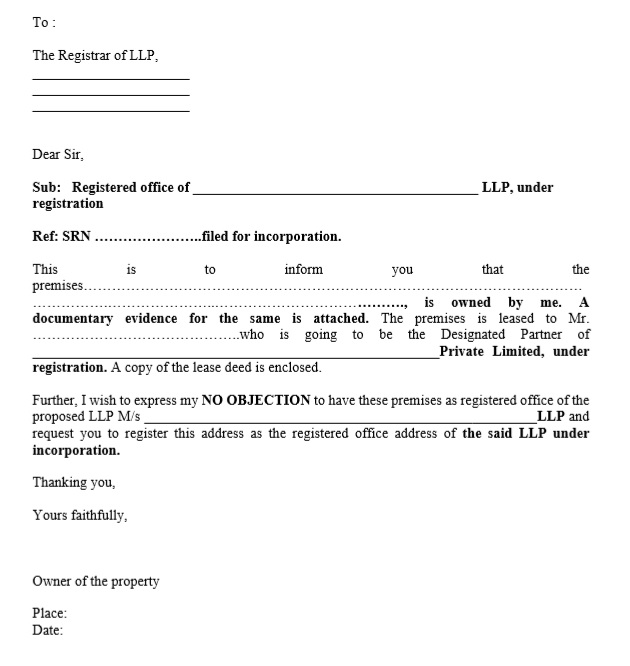 Source: kpsconsultants.com
Here is download link for this Sample No Objection Certificate Template,