If you only know the names of your grandparents, and you have no clue of what's the names of your great grandparents are and what they did as a profession, you are not alone. Almost everyone faces the same situation where they don't know where they came from and what their ancestors did and that's why a family tree is important for each family to have. A family tree is essentially a chart with all the names of your past and present generations and it shows all the relationships in connections with each other. If your parents have a family tree, you will be amazed to see how much information it can give you about your family history. This chart will show you how many uncles and aunts your parents had and what your grandparents did for work and how many brothers and sisters they had. This same tree will also give you enough details to understand the origin of your family as well.
Uses and importance of a family tree in daily life:
You have probably heard it thousands of times that there is nothing important than your family and that's true. There is in fact nothing more important than your home and your family members and they should come before anything else in your life. The common problem with young generation is that they are never given the opportunity to know their ancestors and find out how they looked, what they did and what problems they had and how they lived their lives. A family tree is essentially a tool that tells your kids all about your family history and your great grandparents. Greater chances are that your kids will only get to meet their grandparents which mean there will be only 3 generations living together at any given moment. When you know the history of your family members and you want to share the greatness of your ancestors with your kids and their kids and so on, preparing a family tree that goes back to as many as 10 generations would keep them interested in the family background.
If you have a family with all the relatives that make us what we are today, you will never understand how an orphan thinks of himself and what he feels. When you feel you don't have enough information of where you and your family came from and how you ended up in the present, it can give you a sense of being lost in the world and somehow it can result in a little depression that doesn't only affect your personal life but also professional life as well. In simple worlds, a family tree gives you awareness of your family background and enough identification that you can relate to other people around you somehow.
Then there is the feeling of excitement, proud or a little arrogance when you know all the great things your family members did in the past. You feel proud of your grandfather who built an empire from scratch with just the technical education in the era when people use to do farming. Just imagine how you will feel when you get to know that your great grandfather or his father fought in a war that changed the history of the country that you live in. This gives a family tree more importance to educate your upcoming generations about all the great things your ancestors did to form the perfect future for their next generations.
Free Family Tree Templates
Here are several free Family Tree Templates to help you prepare and print your very own Family Tree Diagram easily.
Download link for this Family-Tree-Diagram-01,

Download link for this Family-Tree-Diagram-02,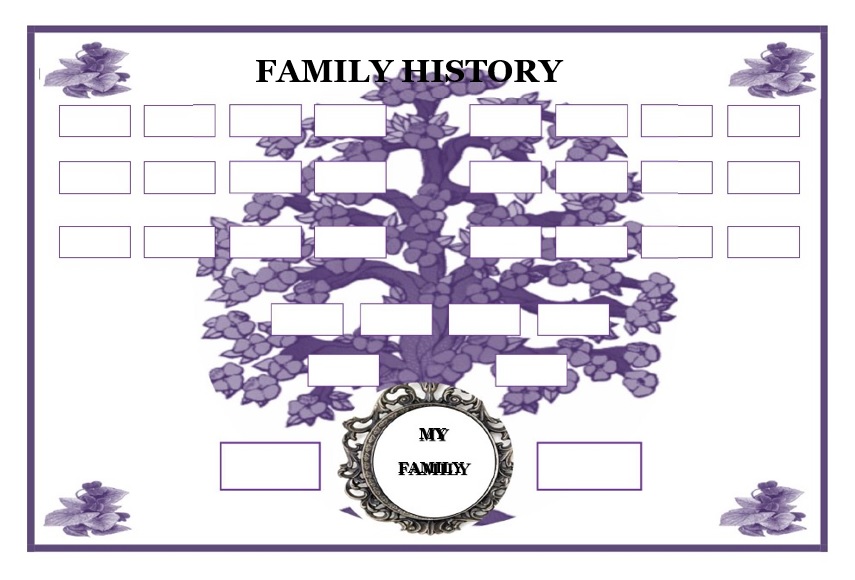 Download link for this Family-Tree-Diagram-03,

Download link for this Family-Tree-Diagram-04,

Download link for this Family-Tree-Diagram-05,

Download link for this Family-Tree-Diagram-06,

Download link for this Family-Tree-Diagram-07,

Download link for this Family-Tree-Diagram-08,

Download link for this Family-Tree-Diagram-09,

Download link for this Family-Tree-Diagram-10,

Download link for this Family-Tree-Diagram-11,

Download link for this Family-Tree-Diagram-12,

Download link for this Family-Tree-Diagram-13,

Download link for this Family-Tree-Diagram-14,

Download link for this Family-Tree-Diagram-15,

Download link for this Family-Tree-Diagram-16,

Useful tips for preparing a family tree:
Decide how Many Generations you want to Add:
Although we all would love to find out about our family's history going to back to hundreds and thousands of generations but that's not realistic. There are some tools and techniques available that test your DNA and let you know about your origin and family history if it pops up in the record. In reality, most of us only know up to 2 or 3 or maybe 4 generations in some cases but if you are thinking of preparing a family tree, it has to start somewhere and then you can tell your kids to add further details on the tree and keeps this tradition going in the family in future generations. For a family tree, you should decide how many generations you want to include and then start gathering the information.
Gather all the Relevant Information:
Once you have decided that you will go 2 or 3 or any number of generations back in the past and include them in the family free, it's time to get the required information. A family tree doesn't only provide the names of the family members but it can also portray their relations with each other, their occupations and the achievements and struggles they had. At this stage, you might need to contact your distant relatives and find out what they have to say about family history. Gather all of these details and prepare a record sheet with family members' names and their details.
Decide how Deeper Details you want to Add:
Adding a picture of a deceased family member on the family tree along with their name and occupation is easy but you can add more details if you want. For instance, you know that your great grandfather was once worked in Ford motors when it started or your great grandmother helped your country and deciphered the codes of enemy forces in World War I. These are the crucial details that should be added on the family tree. Additionally, you can add their relations with each other, what differences they had in between the family and how they overcame those differences.
Start Designing the Family Tree:
Once all the information is gathered, it's just the matter of time to complete a family tree. There are many formats and designs of family trees that you can use. First there is the hierarchical diagram that shows the first member of the family at the top and then each generation underneath and then there is the actual tree with each family member on end of each branch.
Ask your kids to help out to get their Interest:
Kids love to help and prove that they can do various duties. How many times you saw your little daughter helping her mother with cleaning the house even if she is so tiny that she can't hold a broom? You can remember your son asking to help you in mowing the lawn when he doesn't even knows how to operate a lawn mower? This is the reality that kids want to learn quickly and they ask dozens of questions and take interest in tasks they find exciting. If you want to get your kids' interest in the family tree and actually keep it as a tradition in the family, you need to include them in the tree making process. It can be something simple like putting glue on pictures to paste them on the family tree to spelling their occupations and finding their meanings in the dictionary.