7 Free Sample Career Path Survey
It's not very uncommon or rare that after spending years on a job, we suddenly realize that it's not what we dreamed of or what we wanted to do in our life but now that so much time has passed, there is only a little you can do about it. You always have the chance to change your career at any point of the age but if you are going to do it after 10 or 15 years, what was the point of wasting that much of time on a dead end job. For making sure, you choose the right career for you, a career that you like and a career that suits your preferences, nature and the kind of work you like to do. For choosing the right career path from the beginning, you should take Career Path Survey. This survey will not only guide you through the right career and its path for you but it will also prevent you from following a line of work that isn't right for you.
Tips for creating a Career Path Survey:
Give clear instructions about the survey:
Whatever kind of results you want to achieve with the survey, it's not like the participants will understand it without you explaining it to them. This means that in the start of the survey test, you should explain the guidelines and instructions about completing the survey and the ways to get almost exact answers at the end. For example, you can tell them that they shouldn't force their mind to any answer but leave it open and choose the option that their mind agrees with.
Understand the potential of this survey test:
You should understand that even if this is just a survey for you and you or some of your friends aren't taking it very serious, there are still a good number of people who will rely on the results of such career surveys and by finding the results, they will actually take steps to find a different job. This all makes it very important that you focus on the questions added in the survey test and by reviewing all the possible answers, you set the parameters for the results and final analysis after the answers are submitted by the participants.
Provide all possible answers:
The most common mistake that most of the career related survey programs have is that although there are very good and effective questions in the test, but the answers don't cover all possible grounds and aspects of each question. This means that the participants need to look for the closest answer to their requirement or choose an option randomly because they don't find what they are looking for. This problem can compromise the entire analysis and evaluation base of this survey test and for that reason, make sure you provide all possible answers for each question.
Review the survey by yourself:
The most important thing that you can do after finishing the survey test is to check it by yourself. Take a test and by answering the questions, see if you land on the exact predictions about your career path. This is also a very good way to evaluate any improvements needed in the survey and to eliminate the mistakes and errors. For example, with the trial run, you can see if you have given all possible answers for each question so the participants don't have to think hard before choosing an option.
Here is preview of This First Sample Career Path Survey Template created using MS Word,
Source: le.ac.uk
Here is download link for this Sample Career Path Survey Template,

Here is preview of another Sample Career Path Survey Template created using MS Power Point,
Source: dese.mo.gov
Here is download link for this Sample Career Path Survey Template,

Here is preview of This First Sample Career Path Survey Template in PDF Format,
Source: ssc.govt.nz
Here is download link for this Sample Career Path Survey Template,

Here is preview of This First Sample Career Path Survey Template in PDF Format,
Source: skagit.edu
Here is download link for this Sample Career Path Survey Template,

Here is preview of This First Sample Career Path Survey Template in PDF Format,
Source: avma.org
Here is download link for this Sample Career Path Survey Template,

Here is preview of This First Sample Career Path Survey Template in PDF Format,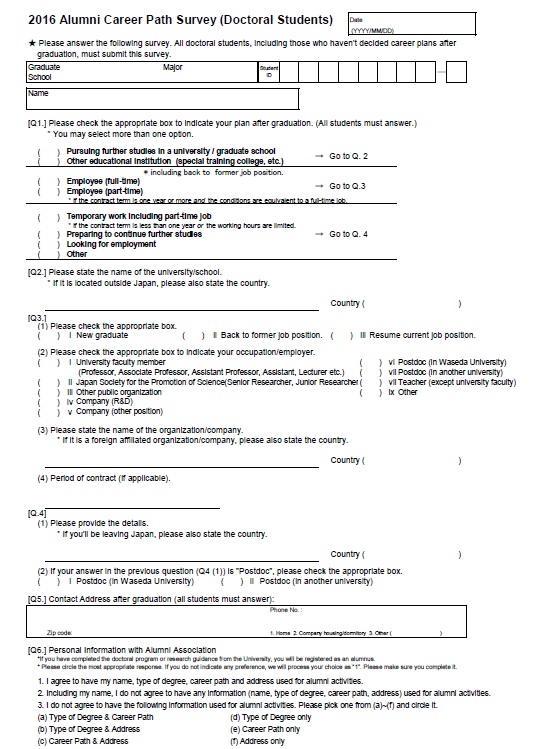 Source: gits.waseda.ac.jp
Here is download link for this Sample Career Path Survey Template,

Here is preview of This First Sample Career Path Survey Template in PDF Format,
Source: nacacnet.org
Here is download link for this Sample Career Path Survey Template,